Description
RumbleRoller®  Full 31″ x 6 " /Original Firm Density/Blue



< Features & Benefits >
• Specially designed bumps that are firm, but flexible, much like the thumbs of a massage therapist.
• The bumps are firmer than muscle tissue, but much softer than bone, so they deflect out of the way if they contact your spine or other bony protrusions.
• The bumps continuously knead the contours of your body, gently stretching soft tissue (muscle and fascia) in multiple directions.
• This action erodes trigger points, helps restore flexibility, and brings quick relief to common types of muscular pain.
• The bumps are closely spaced to one another (< 2″ apart), so several of them simultaneously contact your body during most exercises.
<Conventional Foam Rollers Compress Soft Tissue>
Physical therapists, trainers, and athletes use foam rollers to relieve muscular pain and tightness (often called "adhesions", "knots", or "trigger points"). But conventional foam rollers have smooth surfaces that further compress soft tissue. Rolling on top of them improves blood flow and tissue flexibility, but the effect is limited and relatively superficial, unless you spend a lot of time rolling.
The RumbleRoller® was created to perform this therapy more effectively but specially designed bumps that are firm, but flexible, much like the thumbs of a massage therapist.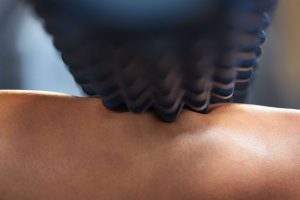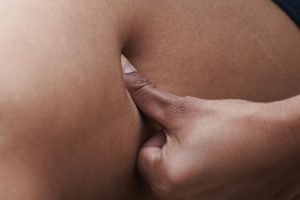 < User Guide >
As you roll on a RumbleRoller, its firm but flexible bumps work like the thumbs of a massage therapist to knead and stretch your muscles. This action erodes trigger points, helps restore flexibility, and brings quick relief to common types of muscular pain. If you are new to foam rolling please download our free User Guide.
< Specification >
Colour      : Blue
Size           : 31″(L) x 6″ (D)
UOM        : Per Piece
Density    : Original Firm
<Add Another Dimension to Your Foam Roller Program>
The RumbleRoller's massaging action can be further intensified by changing your movement from a back-and-forth rolling motion to a side-to-side rocking motion. That's because the RumbleRoller's bumps have an asymmetrical shape that allows them to flex more easily in one direction.
During rolling movements (i.e. the most common roller exercises, with the roller moving beneath you), the bumps flex relatively easily, and provide a wiping-type massage pressure. However, if you rock from side-to-side toward the RumbleRoller's ends, the bumps are forced to flex in a direction in which they're designed to be somewhat stiffer. This creates a deeper "digging" pressure.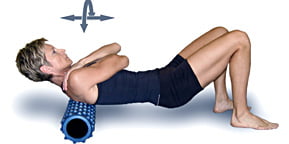 <How to select >
• Compact , original firm (blue, original density) / 12″ x 5″  / RRC126
• Compact, extra firm (black, 36% firmer) / 12″ x 5″ / RRCX127
• Mid Size, extra firm (black, 36% firmer) / 22″ x 5.5″ / RRMX227
• Full, original firm (blue, original density) / 31″ x 6″ / RR316
• Full, extra firm (black, 36% firmer) / 31″ x 6″ / RR317
Full-Size, Mid Size or Compact
Full Size $150 (31″ x 6″): If you plan to use your RumbleRoller® in a single location — e.g. at home — you'll love the Full-Size model, because its extra length makes it more efficient for performing many exercises. It's long enough to roll the widest part of your back in one pass; you can roll both legs (quads, hamstrings, and/or calves) at the same time; and you can even transition from one IT band to the other without moving the roller. The larger diameter also allows for slightly more pressure to be exerted.
Mid Size $120 (22″ x 5.5″): The Mid Size RumbleRoller® is also suitable for home use but does not take up as much space as the Full Size roller for storage or use. At about halfway in length between the Full Size and Compact models, the Mid Size is long enough for most body types to be used comfortably without having to readjust the roller constantly. A good compromise between utility and cost.
Compact Size $80 (12″ x 5″): The major advantage the Compact RumbleRoller® has over the other longer models is its portability. At just 12″ in length, it fits easily in your gym bag, backpack, or carry-on luggage. This makes it a favorite of many runners and triathletes who transport theirs from race to race. The Compact RumbleRoller's smaller diameter (5″ vs. 5.5″ for the Mid Size and 6″ for the Full Size model) allows it to conform better to the curvature of some body parts, such as your neck. The Compact RumbleRoller® also costs less than the full-size model, which may be important if your budget is limited. However, with the Compact RumbleRoller®,the shorter length means that users have to reposition the roller or your body more frequently when rolling different parts of the body. For example, you'll need to roll each leg separately, and more adjustments have to made to target areas like the lats.
Original Density or Extra-Firm
If you're new to foam rolling or have gotten positive results from any type of conventional foam roller, you'll want the original density (blue). Even though this is our "softest" roller, it's still more aggressive than any other foam roller on the market.
Firmer isn't always better. Going too firm jeopardizes your ability to use your roller on all body parts or to relax your muscles fully. This is why we generally advise all first time buyer consider the RumbleRoller Original products as first time purchases. So choose the firmness that best matches your current needs.
XFIRM (black): Extremely firm (about 36% firmer than Original), and only recommended for experienced users with especially dense muscle tissue that doesn't respond to normal massage pressure. This model does dig deeper into thicker muscles, but may be too painful to use on some body parts.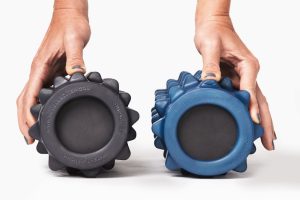 < Product Reviews >

Terry Chan
Verified owner
It is a gift for friend and is of the best foam roller I recommend as a certified trainer and physiotherapist.
2 years ago
Aditya
Verified owner
Very good quality product and fast delivery!
3 years ago
Christopher H.
Verified owner
I received the item well-packed and in good working condition. The bigger size is more comfortable to use as I can roll my whole back evenly. The blue colour which is original firm is just nice for me, not to hard on my back. The material of the Rumble Roll is made of good material and works deep into sore and stiff muscle of my hamstrings, quads and calves really effectively. Nice to know that we can get it conveniently in Singapore at RehabZone SportsMed Online.
3 years ago
More details of RumblerRoller  and range of products. Further Questions? Contact Us at info@rehabzone.com.sg