Description
RumbleRoller® Beastie Bar™ with Stands / Extra-Firm


< Features & Benefits >
• The Beastie Bar uses a pair of Beastie Balls with firm, high-profile bumps to enable true deep-tissue massage.
• The Beastie Bar can be used totally hands-free! It comes with a pair of detachable stands that securely hold the Beastie Bar.
• The Beastie Bar was thoughtfully engineered, from its high-strength fiberglass shaft to its smooth-turning nylon bearings to its non-slip phthalate-free handgrips.



<The Beastie Bar's detachable stands >
• Elevation and Hands-Free Support
The stands secure and elevate the Beastie Bar 1/2″ above the surface for hands-free use.
• Retention
The stands retains the Beastie Bar so that it can more easily be used in off-the-floor applications.
• Attachment
The stands serve as an adapter to removably attach the Beastie Bar to either a wall or the Beastie Wall System.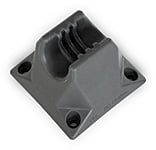 < Specification >
Colour      : Yellow BeastieBall
UOM        : Per Piece with pair of Stand
Density    : Extra-Firm
Made-in  : USA
Ckick on logo for more details of RumblerRoller®   and range of products. Further Questions? Contact Us at info@rehabzone.com.sg