Description
RockWrist® by ROCKTAPE® Black
RockWrist wraps are intensely personal – everyone has a favorite design. We think we've nailed the perfect wrap, with the help of our good friend Jason Khalipa. RockWrists are supportive enough to help with your PR, yet minimal enough that they fade away during a WOD. The polyester fabric provides 10% stretch and secures with hook and loop.
Jason Khalipa Approved
Yeah, we know – we're name dropping. But when one of the fittest men on earth hands you his designs for the perfect wrist wrap, it's deserved.
Competition Grade
We don't mess around with the construction of these wrist wraps. Strings won't break – elastic won't become brittle. A small 10% stretch keeps them secure and comfortable.
Wrists Need Support
We're not saying your wrists are weak – far from it. But they do need extra support during heavy lifts – especially overhead – and wrists injury can stop your training cold.
< Best For >
Weightlifting, obstacle course racing,  rope climbs, deadlifts, cleans,
< Features & Benefits >
• Competition Grade
• Supportive yet Comfortable.
• Easy-on & Quick Release with hook and loop.
• Washable & dry fast
< Specification >
Colour      : Black
Size           : One Size Fits Most
UOM        : Per Pair
Material   : Cotton Length – 22″
Width – 2.5″
Click on logo for more details of ROCKTAPE® and range of products.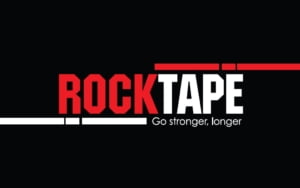 Further Questions? Contact Us at info@rehabzone.com.sg