Description
ROCKBlades by ROCKTAPE IASTM System
RockBlades are a new IASTM system,  Comprising of two tools, RockRub emollient, cleaning wipes, and a quick start guide, RockBlades can have you and your patients enjoying the benefits of IASTM immediately.  Every RockBlades set comes with two tools – one stainless steel and one a more portable, lightweight plastic tool.
We call the stainless steel tool the "Mallet".  Why?  The mallet is the most versatile tool you can have in your toolkit.  And you will find all that versatility in this surgical grade stainless steel IASTM tool.  Hand polished treatment surfaces, combined with a perfectly balanced and weighted core make it a joy to use day in and day out in the clinic.
The mallet has matte-finished dimples for your thumb, four on each side, combined with the "brass-knuckle" style handle, enabling you to hold the tool 6 different ways.  Each side is unique – both in shape and edge radius.  This gives a huge range of treatment options and therapist grips.  The Mallet's non treatment faces are laser engraved with Rocktape's manifesto pattern.
Technical specifications of the Mallet:
Material – surgical stainless steel
Weight – 450gm
Dimensions – 18cm x 11.5cm x 0.75cm
Treatment Surfaces – 4
Grips – 6
The plastic tool is called the "Mullet".  This is because its business at the front, and all party at the back – just like that 90's haircut!  Four distinctive tissue manipulation zones provides comprehensive treatment capabilities.  Each edge, angle and shape was carefully honed over two years to deliver superior results.  This lightweight tool is designed to be portable, allowing you to deliver superior soft-tissue manipulation wherever the job takes you.  The Mullet is made from an incredibly durable thermo-plastic polyamide, the same material used in high-performance automotive and aerospace applications.  The Mullet's non treatment faces are chemically etched with Rocktape's manifesto pattern.
Technical specifications of the Mullet:
Material – Thermo-plastic Polyamide
Weight – 187gm
Dimensions – 15cm x 11cm x 0.75cm
Treatment Surfaces – 4
And when the hard day's work is over, the integrated bottle opener will make sure you never go thirsty!
The RockRub emollient is the perfect medium for IASTM work, and the cleaning wipes can be used to clean the tool between patients, as well as wiping down the patient's skin before you apply your Rocktape.
Click on logo for more details of ROCKTAPE® and range of products.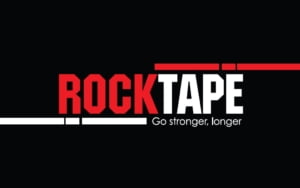 Further Questions? Contact Us at info@rehabzone.com.sg