Description
Hypervolt Plus (With Bluetooth) Percussion Massage Device
Each aspect of the Hypervolt Plus with Bluetooth® is engineered in pursuit of innovation. At the heart of the design, the Hypervolt Plus with Bluetooth® includes every feature from the Hypervolt with Bluetooth with added power, and now, Bluetooth® connectivity with the Hyperice App.
The lightweight durable ergonomic design of the Hypervolt Plus with Bluetooth® is perfectly portable. Featuring our patented Quiet Glide™ technology, the Hypervolt Plus with Bluetooth® comes coated in a matte black finish. Once again, elevating the massage experience.
Like the Hypervolt, The Hypervolt Plus with Bluetooth® features our built-in pressure sensor technology that gives visual feedback throughout your massage process, to ensure your therapeutic sessions are more accurate.
The Hypervolt Plus with Bluetooth® features a 30% more powerful motor and a 13mm amplitude (compared to 11mm) than the Hypervolt with Bluetooth®.
One-year local warranty (Singapore) included. Please see Hyperice Warranty for more details.
< Features >
Brushless high-torque 90 W motor
Patented Quiet Glide™ technology
3 speed settings (30Hz / 40Hz / 53Hz)
5 interchangeable head attachments
24 V rechargeable lithium-ion battery
3 LED indicators to monitor pressure
Bluetooth® Connectivity with Hyperice App
High Torque
Powerful 90W high-torque motor delivers 30% more power while also featuring Quiet Glide™ technology. Can be used to activate, soothe, or loosen muscles.
Interchangeable Heads
Seamlessly change head attachments and adjust speeds for a customized massage experience for maximum results in minimum time.
Lightweight
At just 3lbs the Hypervolt's lightweight durable ergonomic design allows you can take the comfort of relaxation on-the-go.
Lithium-Ion Battery
Rechargeable lithium-ion batteries give over 2.5 hours of use.
Control your Hypervolt Plus
Pair your Hyperice Bluetooth® device, begin a routine, and let HyperSmart™ do the thinking. The speed will automatically adjust as you follow along with the guided routine so you can focus on your warmup or recovery.
Connect to the Hyperice App: The app seamlessly blends your physical and digital activity to create an experience entirely customized to you. Operate your Hypervolt Plus, connect to health and wellness apps, follow guided routines, and get exclusive content from top pros.
< What's Included >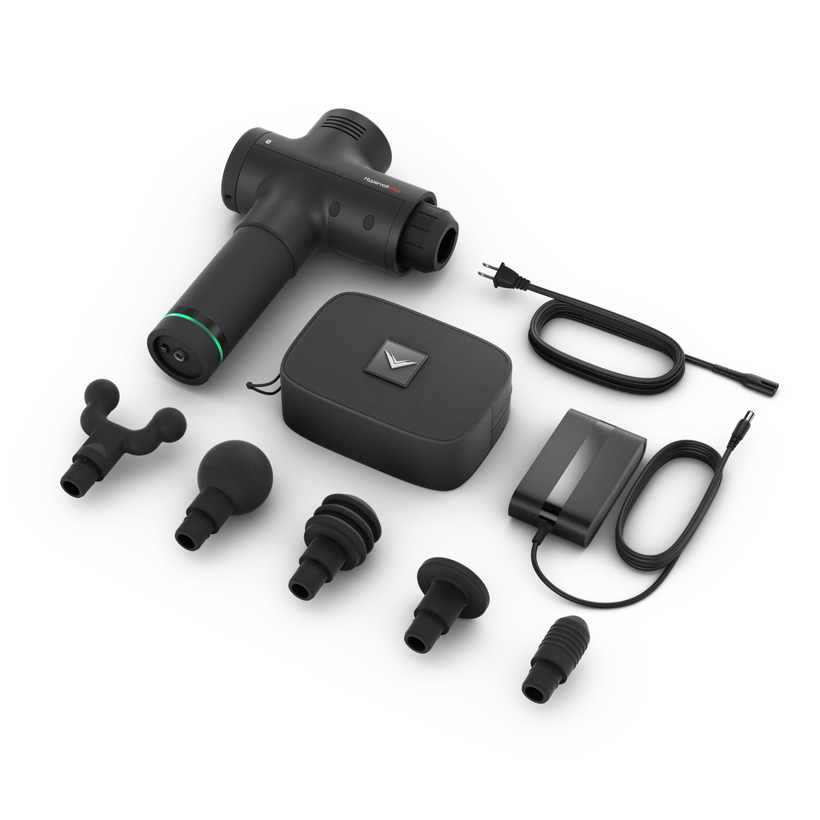 Hypervolt Applicator Set – Five head attachments designed for specific treatments, including the Bullet, Cushion, Fork, Round, and Flat attachments.
Hypervolt Plus with Bluetooth® – The Hypervolt Plus with Bluetooth® is your connected wellness partner.
Hypervolt Head Attachment Pouch – Keep all your attachment heads in one easy place.
Hypervolt Wall Charger – Charge your Hypervolt battery with ease.
< Specifications >
• Dimensions: 5.23" x 3.25" x 10"
• Weight: 3 lbs (1.35kg)
• Battery Life: 2.5 hours+
• Quiet Glide™: Yes
• Bluetooth®: Yes
< Reviews >
Overseas Customers: Please Contact Us for a shipping quote to your location
More details of Hyperice and range of products, click below:
Further Questions? Contact Us at info@rehabzone.com.sg