Description

BAUERFEIND® Genutrain®knee support / Titan-Blue
With medical-grade compression provided by a comfortable knitted fabric, the GenuTrain knee brace produces intermittent massage during movement, relieving knee pain and stimulating the body's metabolic response. This improves circulation to bring more oxygenated blood to the affected tissue and reduces pain and swelling in and around the knee.
GenuTrain's uniquely-engineered design activates the body's own stabilization mechanisms: Its soft knitted fabric is anatomically-contoured and texturized to ensure full contact with the skin, engaging proprioceptors that send signals to the brain. This feedback leads to improved control of the muscles stabilizing the joint.
GenuTrain's new-and-improved Omega+ pad protects and encases the kneecap, stabilizing the joint and massaging the surrounding tissue during movement. This feature enhances the pain-relieving and sensorimotoric effect of the support by stimulating two sensitive areas of the knee: the Hoffa's fat pad and the base of the meniscus. In these Hoffa spots and meniscus wings, the viscoelastic gel material incorporates flexible massage nubs, providing additional selective stimuli during movement to counteract unnatural corrective habits.
The GenuTrain knee support remains securely in position. Lateral plastic stays embedded in the brace have flexible bending zones that follow the user's movement patterns and stretch the knitted fabric around the knee so it does not slip. Donning and doffing aids integrated into the stays make it easier to put the support on and take it off. Thanks to compression-reduced edges and a soft, airier knitted comfort zone in the hollow of the knee, GenuTrain is comfortable to wear, even during longer periods of intensive movement during the day.
< Features & Benefits >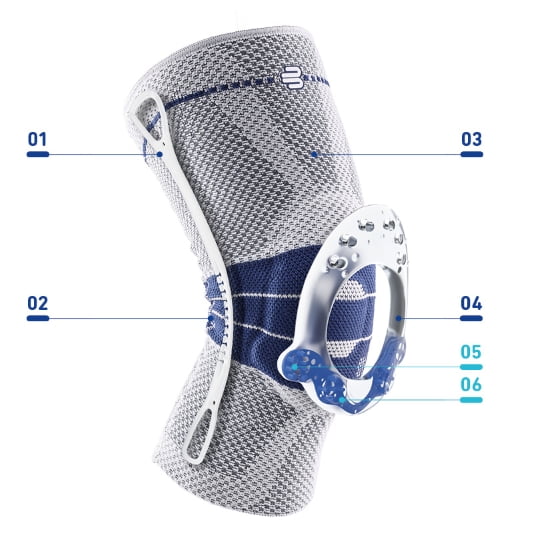 01 [ Donning and Doffing Stays ] NEW! Made of flexible polyurethane material, 4x more durable than previous GenuTrain
02 [ Train Knit ] NEW! 20% lighter and more breathable, providing better comfort and compliance
03 [ Extra Comfort Zone ] Softer, more breathable knit in the sensitive popliteal area
04 [ Omega+ Pad ] NEW! Patented pain-relieving pad encases the kneecap and provides targeted massage
05 [ Meniscus Wings ]  Provide targeted massage and pain relief to the joint space
06 [ Hoffa Pads ] Stimulate the infrapatellar fat pad to promote the body's natural healing mechanism
< Product Reviews >

Anonymous
Verified owner
Anonymous
Verified owner
James S.
Verified owner
< Specification >
Colour      : Titan-Blue
Size           : 0 – 7
UOM        : Per Piece
Fits           : Left or Right
Made-in  : Germany
< Sizing >

Click on logo for details of BAUERFEIND® and range of products

Further Questions? Contact Us at info@rehabzone.com.sg