About SHOCK DOCTOR®

Shock Doctor, the undisputed leader in mouthguard technology and the #1 mouthguard in the world, has become a leader in sports protection and performance around the globe. Our continual innovation in performance-driven and protective equipment is trusted fearless pro and youth athletes. Shock Doctor products are worn by hundreds of professional and college athletes and available in more than 10,000 retail locations (USA).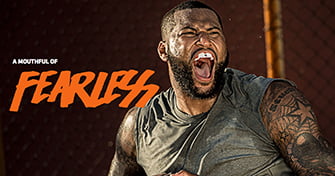 MOUTHGUARD TECHNOLOGY
WE GIVE TECHNOLOGY MORE BITE
Your face says, "I'm in the zone, focused, determined". It's the face of relaxed confidence that comes when you're equipped with the hardcore protection needed for fearless performance. Since being awarded our first mouthguard patent in 1992, Shock Doctor has never stopped innovating the science of mouthguard technology.
Today, many patents later, our complete line of 12 mouthguards offers multi-layering, custom gel-fitting, lower profiles and lighter weight with innovative designs that don't compromise protection while making it easier to breathe and speak. We design each one to help athletes play to their highest potential. It's the face of our game, and we play it better than anyone else.
When Shock Doctor introduces new mouthguard innovations we are building upon years of experience and expertise. We do not take our consumers for granted. We support our innovations with credible benefits and marketing support to continue to provide value and reinforce our leadership position.

PROTECTION DRIVES PERFORMANCE.
BUT PROTECTION COMES FIRST.
Research confirms that confidence in protection can help create a mental state in which an athlete can better focus on game performance, undistracted by a poor fitting, uncomfortable mouthguard that chokes breathing and limits communication with team mates.
Performance mouthguards, mouthpieces and mouthwear that advertise increased strength and performance are typically called MORA (Mandibular Oral Repositioning Appliance) mouthguards. MORA technology provides optimum positioning and "bracing" of the lower jaw, neck and shoulders so that the muscles work more efficiently, thus conserving energy for the muscles controlling the arms and legs, which may increase strength.
For 2012 Shock Doctor offers over ten MORA mouthguards, having been the first to offer multiple MORA mouthguards since 2004. MORA may benefit some athletes. That's why we design it in. However, we recognize that peer-reviewed scientific research results are inconsistent. Nevertheless, recent research shows that Shock Doctor MORA mouthguards, meet and exceed the strength and power results of custom bite mouthguards at 20 times the price. At Shock Doctor protection comes first. Athletes count on it every time they play.
Gel Max FlavorFusion Mouthguards